Exhibitions
There are usually 'Horrible Histories' exhibitions and visitor attractions on offer somewhere in the country.
In 2023 a 'Horrible Histories Escape Room' opened in Liverpool.
In July 2023 exhibitions about the history of flight ... based on Terry's book 'Horrible Histories - Up in the Air' ... will launch in RAF museums at Cosford and Hendon.
Other large exhibitions are planned for 2024.
---
The Terry Deary History Experience Park
Terry says:-
"What I hope to build is a History "Experience" where I recreate authentic villages from various periods - Tudor, Roman, Victorian perhaps - with nothing of the 20th century in them."

"They'll be enclosed in domes like the Eden Project in Cornwall so they'll be all-weather attractions and they will not be museums or theme parks; they will be peopled by actors and the visitors can join in the never-ending re-enactments of the past - with all its horrible history flavour - over there is a pickpocket on trial for stealing ... is he guilty, do we hang him? YOU, the visitor, must decide."

"Over there is Mr Shakespeare rehearsing a play and having trouble with the Puritans ... over here are the preparations for Queen Elizabeth's visit."

"In that house is a craftsman turning wooden bowls, and in that one a woman selling roast thrushes to take away while there is a house being built using genuine tools and skills and over there a Tudor ship. (When the ship is completed it will sail on the river and a new one built - when we have two we'll have a sea battle!)"

"And all the time the visitors are encouraged to interact and "experience" a day in the life of the period."

---
Horrible Histories – Funfair of fear exhibition
The National Museum and Galleries of Wales staged this spectacular exhibition in 2000.
South Wales Echo 14 April 2000 : An Eye-popping exhibition! -
"Visitors to the exhibition will be able to throw beanbag Christians into lions' mouths and hear the sounds of the animals roaring. Bloody-axe beanbags can be hurled at Henry VIII's wives, knocking them over to reveal whether they really did lose their heads to the axe-man. A castle, complete with dungeon, is filled with victims being tortured. It looks stunning. It will win over children who have never been interested in history before."

---
Horrible Histories - Crime and Punishment Exhibition
Terry designed the "Horrible Histories - Crime and Punishment Exhibition" was at the Royal Armouries in Leeds (July - November 2007) will try some of the concepts on a smaller scale.
It broke attendance records.
---
Horrible Histories - Woeful First World War
And in 2008 the "Imperial War Museum North" in Manchester had a 'Horrible Histories - Woeful First World War' exhibition.
---
Horrible Histories – Terrible Trenches & Spies
In 2009 until October 2010 there was the 'Horrible Histories – Terrible Trenches' exhibition at the Imperial War Museum in London. This was followed by a successful "Horrible Histyories - Spies" the following year.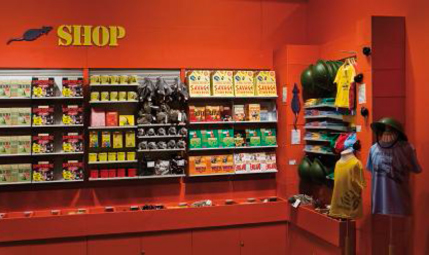 ---