Latest news - March 2017
Posted on 16th May 2016
News and diary - April/May2017
2017 and that means ...
it's 40 years since I first published a book ("Teaching Through Theatre" 1977)
this year will see my 300th published book and 150th fiction title

---
Television productions
In April/May2017 I'll be working on four television series based on my books.
"True Time Tales"
In the past 10 years I've published 52 books in 'True Tales' series of historical fiction for Bloomsbury Educational. These cover stories from Stone Age Tales through history to World War 2 tales. Now they are being adapted by Canadian animation partners to make an international children's television series.
"Dangerous Days"
The history series for adults - 'Dangerous Days' - this month I'll be writing a pilot episode for this prime-time TV seies for television.
'Horrible Histories'
Series 7 of the award-winning CBBC Series was recorded in Autumn 2016 for broadcast in Spring 2017.
'The Fire Thief' trilogy and "Master Crook's Crime Academy"
These action/adventure titles from the 2000s are being developed with television production partners
---
Movie plans
I am developing, or appearing in, five new movies with various production companies.
1. 'Horrible Histories - the movie'
An adaptation of the popular book series for the big screen. We are in the early stages of script planning.
2. 'Master Crook's Crime Academy'
Four live-action, 90 minute movies for television based on the comic-historical novels published in 2009. In discussion with an international broadcasters.
3. '
The Real Maria Marten'.
In 2016/17 Burn Hand Films will be creating a movie script based on Terry's 1978 novel, 'The Real Maria Marten', a Georgian murder story. The movie will be filmed in 2018 and Terry will act in a leading role. A novel of the film, called "He will hang", should accompany the movie release in 2018
4. '
Plan Z
'
The zombie movie, 'Plan Z', was released in Autumn 2016 with Terry in the role of a shopkeeper, 'Old Davey' who becomes a zombie. It came out in January 2017 as a DVD and is available in most ASDA stores. In March it won the National Film Award for Best Thriller.
5. 'The Fire Thief' trilogy
This best-selling series of three books tells the story of Prometheus, the Greek God who stole fire from the gods and gave it to humans. His punishment was to be chained to a rock and have his liver eaten every day by a monstrous eagle. When the hero Hercules sets Prometheus free he must travel through time to hide from the great avenging bird. An adaptation of the books is now being discussed with US movie companies.
---
Radio and Audio
In March I wrote a new 10-part readio series for BBC Wiltshire to be broadcast as part of the Salisbury International Arts Festival 17 - 30 July 2017. An episode will be broadcast each weekday morning. It's been recorded and is now being editied for broadcast in July.
I'll also be negotiating to produce new audio versions of "Horrible Histories" that fans can download for their electronic devices.
---
Theatre
'Sixty-Minute Theatre - Top Ten Dickens Tales'
Following the success of last year's 'Macbeth Curse' tour I'll be working with "
Prime T
heatre Company" to create a new touring show for 2018
Eboracum Baroque
These talented musicians perform concerts while I narrate the stories that link the musical peices. Following our 5-star concert at the Edinburgh Festival we will be planning new shows for 2017.
New Media
In 2017 I will be working with international partners to adapt my new novel (title a secret) as a Virtual Reality project for release in Spring 2018.
I'll also be looking at the possibility of producing "Horrible Histories" as Virtual Reality experiences.
---
Personal appearances and signings
No appearances or signings planned for 2017
---
Exhibitions
I'm planning several new visitor attractions for the UK and worldwide, starting in 2017. There will be books to accompany the attractions. The plans are mainly confidential but here is a flavour of what is to come ...
1. Miniature worlds
See history come to life in worlds that are knee-high to the visitor. Learn the secrets of the past.
2. Live in the past
Dress in historic costume and learn how to live in an historic age. Face challenges and test your new skills, guided by actors playing people from the past.
3. True Time Tales
The 'True Tales' series of books (publisher, Bloomsbury Education) will be brought to life by actors and animations then young visitors can go on to step into the past of a reconstructed world.
---
New writing this month
In March and April I have a busy programme of TV and Radio scripts to write so there will be little time for new books.
---
Latest book releases
New "Horrible Histories" title
A new "Horrible Histories title "Crackin' Castles' is now published along with a new edition of the ever-popular "Horrible Christmas"
Four more "True Tales" have been released with new illustrations. Published by Bloomsbury Education they are the "Victorian Tales"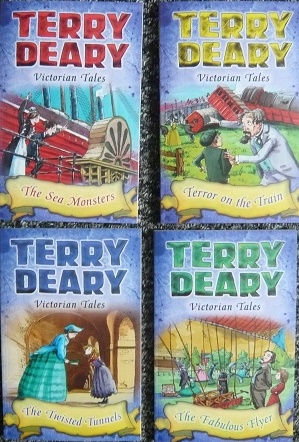 Two new ideas in "Horrible Histories" also appear ...
Horrible Histories - This is a Horrible Book of Foul Facts
Horrible Histories - This is a Horrible Journal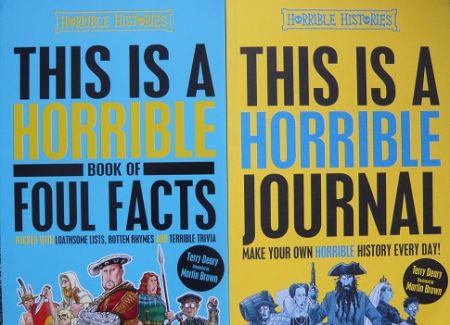 This month sees 10 more re-jacketed titles
Horrible Histories - Angry Aztecs

Horrible Histories - Slimy Stuarts

Horrible Histories - Blitzed Brits

Horrible Histories - Ruthless Romans
Horrible Histories - Dark Knights and Dingy Castle
Horrible Histories - Terrible Tudors
Horrible Histories - Incredible Incas

Horrible Histories - Villainous Victorians
Horrible Histories - Barmy British Empire
Horrible Histories - Awesome Egyptians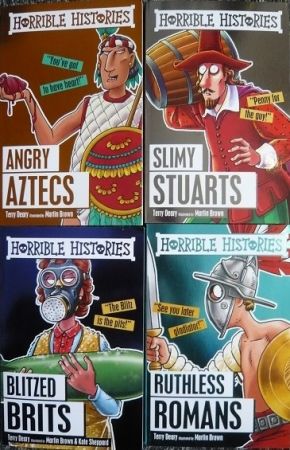 ... and one new paperback edition...
Horrible Histories - Top 50 Kings and Queens

---
e-books
I have about 50 children's fiction titles that are now out of print. I have been working to convert them into e-books and make them available to a new generation of readers. In June 2013 I relaunched his fabulous "Tudor Chronicles" historical fiction series as Kindle downloads.
---
US Sales
Galore Park books specialise in selling "Horrible Histories" in the USA. For US readers go to: http://www.horriblebooks.com/horriblebooklist.htm